Tyvek® 200 Easysafe - Don't just wear anything!
A certified Type 5, 6 chemical protective coverall from DuPont that is based on a new optimised polyethylene non-woven fabric at low cost to meet budget requirements.
Made of polyethylene non-woven fabric, these hooded protective coveralls help provide protection against particles (Type 5) and limited liquid splashes (Type 6). Benefiting from DuPont fabric technology, the Easysafe is a coverall that offers demonstrably more protection than equivalent SMS garments and that is more robust than microporous films.
Offering a great balance of protection and comfort, the Easysafe is the new, best basic solution from DuPont for those working on jobs that are less demanding in terms of protection and on a tighter budget.
Features and Information
Tyvek® 200 EasySafe
Tyvek® 200 EasySafe, model CHF5. Hooded coverall available in white, sizes S to XXXL. Robust yet lightweight (<180g per garment). 2-piece hood. Elasticated face, wrists, waist and ankles. Easysafe fabric is a new and unique optimised polyethylene nonwoven from DuPont. It is softer and with a more open structure than Tyvek®. It is therefore less protective than Tyvek® (L1431N), but offers adequate Type 5 and 6 barrier protection and remains both air and moisture vapour permeable.
EXPLORE THE DETAILS:
2 piece hood

Nylon zipper

Elasticated, stitched-in waist

Elasticated hood, cuffs and ankles

Yellow stitched seams

Overall simplified pattern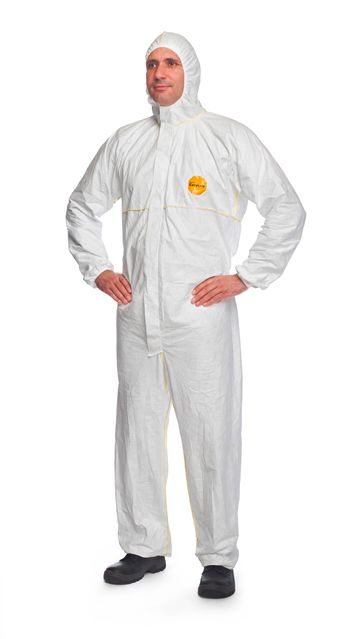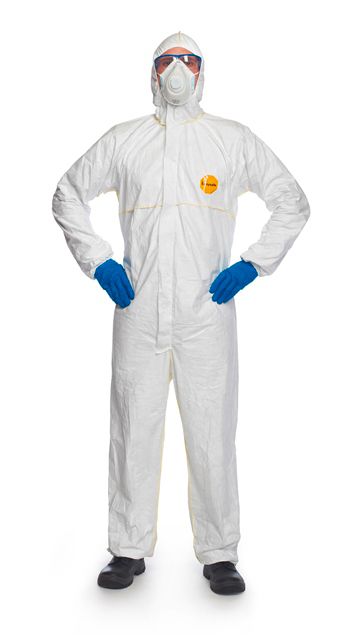 Chemical Protective Coverall Category III

Click for more
Type 5 – Protection against airborne solid particulate chemicals

(Norm: EN ISO 13982-1)

Type 6 – Limited protection against liquid mist

(Norm: EN 13034)

Electrostatic discharge if properly grounded

(Norm: EN 1149-5: 2008)

Protection Against particulate radioactive contamination

(Norm: EN 1073-2)
Product Information
Product Data Sheets (4)
Additional Information (1)
USES AND APPLICATIONS
Paint Personal Protective Equipment

Learn how low-linting protective clothing of DuPont™ Tyvek® and DuPont™ Tychem® can help ensure high product quality in surface treatment and paint-spray applications.